Dr. Jess Workshop
Nov 3rd, 2014 to Nov 7th, 2014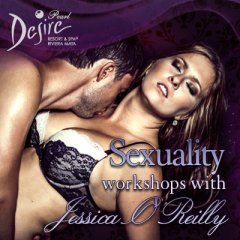 Join PlayboyTV's Sexologist, Dr. Jess at Desire Pearl Resort & Spa for an unforgettable week of sexy workshops designed to heighten intimacy, spark new conversations and launch your sex life to a whole new level. From seduction moves and dirty talk to tantalizing positions and the hottest finishing moves from her best-selling books, you'll leave with a fresh perspective on what it takes to really drive your lover wild!

Discover how to give her/him pleasure in a more creative, relaxing and sensual way. This will be the time to come to fulfill your desire to become the best lover in our deliciously erotic hotel.

Whether you have already attended her seminars or not, you have to be here for our special week from Nov 3rd to 6th that will make the difference in your sexual encounters... not only during your stay at Desire Pearl!

Monday 3rd - Stimulation and oral sex.
Tuesday 4th - Touching her sweetest spots: The art of caressing.
Wednesday 5th - Erogenous exploration for couples.
Thursday 6th - Stimulation and oral sex.

Option #1
$ 795.00
Master Suite
11/03/2014
$ 795.00
Master Suite
11/04/2014
$ 795.00
Master Suite
11/05/2014
$ 795.00
Master Suite
11/06/2014
-$ 795.00
4th Nt Free Open - MS
Discount
$ 2385.00
Total
** Balance Due at time of booking.
Rates Based on 1 Room(s), occupied by 2 adult(s) in US Dollars.
Need Help ?
Reservation Agents are standing by to assist you!