New Year's Eve Masquerade Bash
Dec 30th, 2014 to Jan 3rd, 2015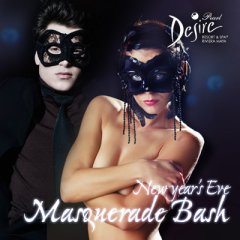 Happy New Year! Another year has gone by, and a collection of delightful moments with it. However, the most deliciously erotic experiences still await you at Desire Pearl Resort & Spa with our New Year's Eve Masquerade Bash...

Picture yourself in the sensual Desire, having a blast in the naughtiest Moulin Rouge party of all while you gather with old and new friends and live your passions to the fullest. Now, stop dreaming and let us bring your fantasies to life.

Come with your lover to discover an exquisite blend of glamour, pleasure and sensuality that will seduce your senses all night long. Our tantalizing performances including our beautiful Can-Can dancers will take you to experience the sexiest version of the Moulin Rouge.

So join us in your mysterious mask and don't forget to reveal enough skin in your most sensual Moulin-Rouge, burlesque, fancy attire. This New Year's Eve, be the most seductive couple of the night and surrender to your desires like never before.

Wednesday 31st - Meet and Greet + Cocktail Party + Burlesque-Moulin Rouge Type + Masquerade New Year's Eve Party + Live DJs + Magic Mike Presentation.
Thursday 1st - Diamonds And Lingerie + Sexy Games And Contest + Free Nights Give Away.
Friday 2nd - Pimps And Ho's + Live Band + Pole Dance Classes + Lap Dance Workshop + Costume Show Off.

Option #1
$ 1110.00
Master Suite
12/30/2014
$ 1110.00
Master Suite
12/31/2014
$ 1110.00
Master Suite
01/01/2015
$ 960.00
Master Suite
01/02/2015
-$ 144.00
EXT Winter Savings - MS
Discount
$ 4146.00
Total
Rates Based on 1 Room(s), occupied by 2 adult(s) in US Dollars.
Need Help ?
Reservation Agents are standing by to assist you!